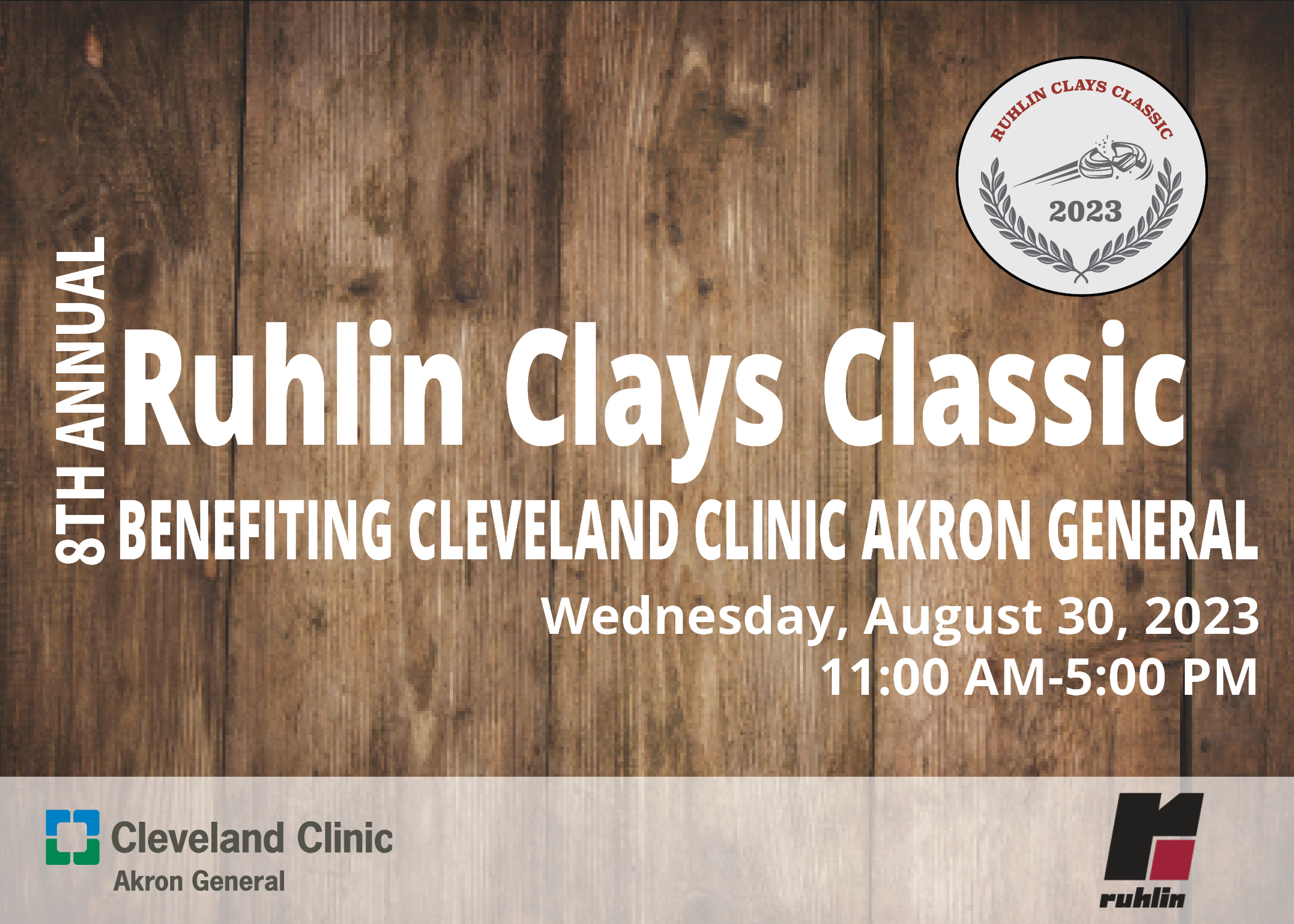 8th Annual - Ruhlin Clays Classic
WHO:  Experienced and Novice shooters are encouraged to attend
WHEN:  Wednesday, August 30, 2023
WHERE:  Hill 'n Dale Club, 3605 Poe Road, Medina, Ohio
To secure your spot/team register now! For more information Download PDF or contact Kara Hurst at khurst@ruhlin.com.
Register
Donate
The Ruhlin Clays Classic, presented by The Ruhlin Company, is held annually to benefit local healthcare organizations in Northeast Ohio. For the 8th annual event, Ruhlin is proud to support Cleveland Clinic Akron General foundation and the organizations mission – to improve the health and lives of the people and communities they serve.
Funds are raised through sponsorship's and entry fees as well as raffles and tastings. Proceeds will benefit the Cancer Center at Cleveland Clinic Akron General. Cancer impacts the lives of so many of our friends and family. Our art therapy program is in its 9th year – thanks to philanthropic support – and is an important part of a cancer patient's journey. Patient and Family Support Services is a critical piece to caring for our patients. The fund goes to expand the art therapy program and patient navigation staff. Cleveland Clinic Akron General would also like to add music and massage therapy to provide comfort, care, confidence and healing to cancer patients.

Sponsorship Opportunities
Presenting Sponsorship Package - $5,250
Includes:
6 entries
cart
ammunition
lunch/dinner
bourbon tasting
sponsorship signage
name listed in pre & post-event marketing material
logo listed in pre & post-event marketing material
Fuel the Sportsman Sponsorship Package - $4,000
Includes:
6 entries
cart
ammunition
lunch/dinner
bourbon tasting
sponsorship signage
name listed in pre & post-event marketing material
logo listed in pre & post-event marketing material
Bourbon Sponsorship Package - $2,750
Includes:
4 entries
cart
ammunition
lunch/dinner
bourbon tasting
sponsorship signage
name listed in pre & post-event marketing material
logo listed in pre & post-event marketing material
Scorecard Sponsorship Package - $2,900
Includes:
3 entries
cart
ammunition
lunch/dinner
bourbon tasting
sponsorship signage
name listed in pre & post-event marketing material
Ammunition Sponsorship Package - $2,625
Includes:
3 entries
cart
ammunition
lunch/dinner
bourbon tasting
sponsorship signage
name listed in pre & post-event marketing material
Cart Sponsorship Package - $1,600
Includes:
2 entries
cart
ammunition
lunch/dinner
sponsorship signage
name listed in pre & post-event marketing material
Station Sponsorship - $300
event
WELCOME & SAFETY INSTRUCTIONS
SHOOT BEGINS & BEGINNERS CLINIC
ANNOUNCEMENTS, AWARD CEREMONY & PRIZES